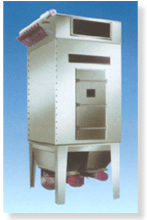 Scope of application:
The equipment is widely used for ventilation and dedusting and recovering powder dust of metallurgy industry, casting industry, mine, chemical industry, pharmaceutical industry, construction material industry fed industry and grain processing industry and so on.
Principle of work:
Model TGBLM pulse bag duster is new type of equipment for purification of air containing dust. It adapts "208" industrial terylene flannel as filtering bag that can be higher temperature resistant. The cleaning efficiency can reach 99.5%. The features are compact in structure, occupying small area, long life of filtering bag, stable and reliable in operation. The maximum temperature of air containing hot gases can be as high as 120℃. The air stream containing dust passes through low box from air inlet. Parts of it deposit. When light particle dust is floated, it is retarded in the bag. The purified air penetrates the filtrating bag and passes into the up box through Venturi tube and exhausts from outlet. The accumulated powder dust on the outer wall of filtering bag is increased continuously. If the resistance reaches the limit range (in generally, it should be 80-120mm water column), it is necessary to clean the accumulated powder dust. The clean method is as follows: controller touches off each control valve in order. It makes the compressed air inside the tank sprays out through nozzles (the 1st air). Using Venturi tube, several times of air around it (the 2nd wind) enters into the bag and makes the filtering bag expand rapidly at momentary and accompany with the counter action of air stream. This makes the dust drop into dust gate and discharge outside the machine.