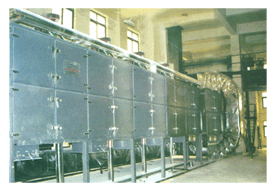 Brief:
TGZB series titanium dioxide exclusive use drapertype drier is a rutile titanium dioxide drying equipment complex developed by our company after absorbing advanced foreign technologies. It features flexible operation, easy maintenance, low investment and low energy consumption.So far many of them have been used by various titanium dioxide manufacturers.
Structural feautures: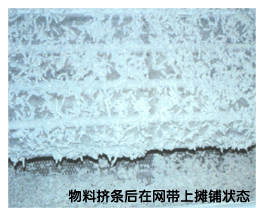 1.The two- or three-roller type squeezer, developed by our company,is adopted to ensure the continuous and even distribution of materials on the net belt.The squeezed titanium dioxide from the squeezer is billet-shaped and can spread loosely on the net belt, which is conducive to the quick and even drying ofmaterials.
2.Two-stage drying, consisting of the pre-drying stage and the drying stage, is adopted. In the pre-drying stage, stainless net of high percentage of open area is used as the supporting body of materials, and in the drying stage, stainless steel orifice plate with high supporting capacity is used, this is to meet the requirement for quick dehydration in the pre-drying stage and slow dehydration in the drying stage. Both stages have independent infinite speed variation systems to easily control the drying time.
3.The drying hot air is in inside/outside cycle, and if clients require, heat-pipe type exhaust feed heater can be used in the gas tail , which can maximize the heat utilization ratio and minimize the costs.
4.Stianless steel in the contacting part ensures no secondary pollution to the titanium dioxide.