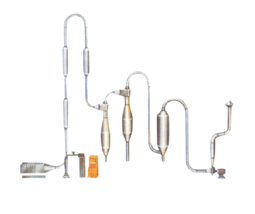 Air stream dry is also called as momentary dry. From 1960's it is applied at pharmaceutical industry. At the beginning of foundation, we began to choose the newest technology both at home and abroad and provide complete equipment with high quality and cheap price to pharmaceutical industry, chemical industry, foodstuff industry and so on.
Sketch of structure:
1.The dry strength is large and investment equipment is saving: th treating amount of air stream drier is the largest. The evaporated moisture capacity of equipment manufactured by we will be 50-1500kg/hr. The volume of equipment is small and the investment is saving. This advantage can not be compared from other drying equipment.
2.The automatic content is high and the quality of product is good: the raw material to be dried is inside the pipe. The dry time is short(only 0.5-2 seconds). So that the automatic can be realized . The raw material can not contact with outer substances. So the pollution is small and the quality of product is good.
3.The equipment will be supplied completely and the heat source can be chosen freely: the air stream of drier will be supplied completely. The basic type consists of filter, heater, feeder, drying pipe, fan and cyclone separator. Customer can install duster and other auxiliary equipment in accordance with practical conditions. On the choice of heating way ,air stream drier has wide suitability. Customer can choose steam, electricity and air-heated furnace to heat in accordance practical conditions. Meanwhile it should be chosen in accordance with the temperature of raw material to be resisted (or temperature of hot air): if150, choose steam to heat, if200,electric or steam and electric as supplement or heat conduct oil; if300.coal air-heated furnace; if600,iol air-heated furnace.