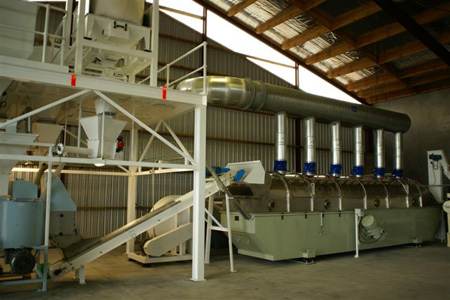 TGZZ series vibrating fluidized bed drying (cooling, humidifying) machine. When particles are dried in common fluidized bed, it is required that the particles should have certain specification which limit the common fluidized bed's using range. Foreign countries have done a lot of research to this in order to overcome the shortcoming. Saving energy and improving product quality is crucial especially in today's energy-lacking situation, thus it has great significance to make fluidized beds which have wide application and reasonable price. Under the guidance of relative research institution, we have brought in new products and launched vibrating fluidized bed drying (cooling, humidifying) machine. With the advanced design, reliable quality, wide application and significant energy-saving quality, it has been widely welcomed in various industries.
Working principle and structure:
Vibrating fluidized bed drying machine is empowered by vibrating power which produce the vibrating force, then the materials jump forward at the given direction under the force. In the meanwhile, the hot wind under the bed keep materials fluidized and make materials fully exposed to the hot wind which reaches the good drying effect.
Materials enter machine from the entrance, and face to face with the hot heat, then the moisture is extract with the wind and left the dry material.
Use and main features:
The machine is widely used in the drying of powders and particles of chemical, light industry, medical, foods, plastics and other fields. It can also be applied to dry and cooling, cooling and humidifying operation. Its features are as follows:
1.Empowered by a vibrating motor which operates smoothly, and with little noise, long service life and easy to repair.
2.Vibration makes materials easy to be fluidized and improve the heating efficiency. The heat is equally delivered, without dead corner and overheat phenomenon. Vibration can save energy from 30-60% than an ordinary machine does.
3.Thickness of the material layers, the moving speed, and vibrating range can be adjusted as will.
4.The damage of material is very small which can applied to fragile and irregular materials without damaging the effect. The total enclosed structure efficiently prevent the pollution between the material and the outside world. The clean and environmental friendly character improves the working condition.
5. Vibration increase the fluidity which decrease the air consumption and particle entrainment rate.