The principle of its atomization is that liquid which gets high pressure(1-10Mpa) from high-pressure pump transfers pressure into kinetic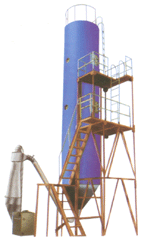 energy when it passes through the spray nozzle,and is sprayed out at high speed to become droplets. The advantages of this atomization are as follows:small atomization power; easy operation, maintenance and replacement; and larger granularities etc. The disadvantages are:high-pressure pump is needed; nozzle is easily blocked up; liquid materials should be filtered strictly; large wearing of nozzles; not easy to atomize for high-viscosity liquid.
Scope of application:
Instant milk powder, cocoa powder, coffee etc.;
Granule disperse dyestuff, alkaline dyestuff etc.;
Propyl methanol, sodium lauricsulfate etc.;
Synthetical detergent powder etc.
Biological products such as ovoflavin VB2, medicinal yeast etc.